Precious Blood Hospital (Caritas) press release
More than 200 quotas for the Total Knee Replacement Surgery programme at Precious Blood Hospital (Caritas) ("the Hospital") have been filled soon after the Hospital launched the programme with a funding of HK$20 million from the Li Ka Shing Foundation ("LKSF") in January this year. Calls and applications flooded in after the launch and following assessment of eligibility and conditions of all the applicants, the Hospital has selected the suitable candidates. Operations have already been performed on more than 60 applicants, and all the remaining surgeries are expected to be completed within six months.
In view of the enthusiastic response, LKSF is actively considering adding more quotas to the programme to benefit more patients.
Knee problems are common among the elderly, but the waiting time for surgery at public hospitals is very long due to resource constraints and the time needed to cope with the large number of patients. Data from the Hospital Authority show that nearly 30,000 people are currently on the joint replacement waiting list, with waiting periods ranging from three to seven years, making it one of the longest among all medical specialties. The long waiting time exerts physical and mental stress to patients and affects their quality of life. While total knee replacement surgery can relief the pain of the patients straightaway, many patients are often unable to receive treatment due to financial difficulties. Therefore, the Hospital is very pleased to receive support from LKSF for the programme, which will shorten the waiting time of patients, relieve their pain and the pressure on their care givers, and enable many patients to return to work and contribute to society.
To be eligible for the programme, applications have to have family income of less than HK$80,000 a month, and have been waiting for the surgery in public hospitals for more than three years. All applicants were assessed by orthopaedists of the Hospital after submitting their applications. Eligible applicants will then receive a subsidy of 75% to 100% of the surgery costs depending on their financial situation.
Dr Jonathan Wai Heung-on, Medical Superintendent of Precious Blood Hospital (Caritas), said with stalwart support from LKSF, the total knee replacement programme had seen its first surgery performed within a week of the launch, and more than 60 surgeries had been carried out in less than two months.
Dr Wai said, "On the second day of the Lunar New Year, I witnessed the first group of patients being discharged and happily returning home after their successful operations. The programme is a great success because of the close cooperation between the Li Ka Shing Foundation and the Hospital, and the support of the medical staff, including five orthopaedists, nurses, physiotherapists and many other staff members. They are all committed to the Hospital's motto of 'Love in the Service of Hope'."
The orthopaedic team responsible for the programme are all experienced surgeons. Dr Cheung Kin-wing, one of the surgeons in charge, said the large number of applicants and the overwhelming response to the programme show that there are many patients on the waiting list suffering from knee problems and are eager to receive total knee replacement surgery.
Dr Cheung said unlike fractures and tumors, knee replacement surgery is not an emergency procedure, but patients are advised to have it done as soon as possible. For example, if a patient's knee bends inwards (varus deformity) of more than 20 degrees or bends outwards (valgus deformity) of more than 15 degrees, the deformity may worsen in a few years if the surgery is not performed, ligaments may be loosened and complicate future surgeries.
Dr Cheung believes the greatest significance of LKSF's support to the programme is that it helps a group of patients who lack options due to financial constraints.
Dr Cheung said, "While patients may choose to perform the surgery at public hospitals, the waiting time is far too long. Most of the patients affected are elderlies who do not have high income, or retirees with no income and rely on their savings or their children's support. This programme does not only help them reduce their physical pain, but also improves their quality of life."
Many patients chosen by the programme are employed middle-aged persons. With the help of this programme, they are no longer dependent on family support and can return to work.
Ms Chang Shuk Yin, who is still under 60, completed her surgery under the programme. She has been working as a care giver for people with intellectual disabilities for 15 years. Ms Chang said her knee pain has seriously affected her work and life, and she is very happy to have received support from LKSF so that she no longer has to worry about her knee problem.
Ms Chang said, "I had waited for seven to eight years at public hospitals and the surgery never came. I was told that I was not old enough and that the surgery had to be reserved for older patients. I am very grateful to Mr Li Ka-shing for the help I received through the Li Ka Shing Foundation."
Ms Chang said her wound had healed well after the surgery and she could now walk with the help of a cane. She said she would continue to work after her recovery.
Mr Kwok Ping Kay, another patient receiving help through the programme, also expressed his gratitude to LKSF for helping him regain his quality of life. He hoped that he could resume hiking and cycling as he did after recovery.
He said, "I am very grateful to the Li Ka Shing Foundation for funding the programme, to Dr Cheung for arranging the surgery, and to all staff at Precious Blood Hospital for their round-the-clock care, which has enabled me to recover quickly."
In addition to the cost of surgery, the programme also covers the cost of artificial joints, hospital charges, laboratory tests, physiotherapy and post-discharge follow-up consultations.
LKSF has been cooperating with different medical institutions and supporting different medical projects. Total knee replacement surgery is one of these many endeavours.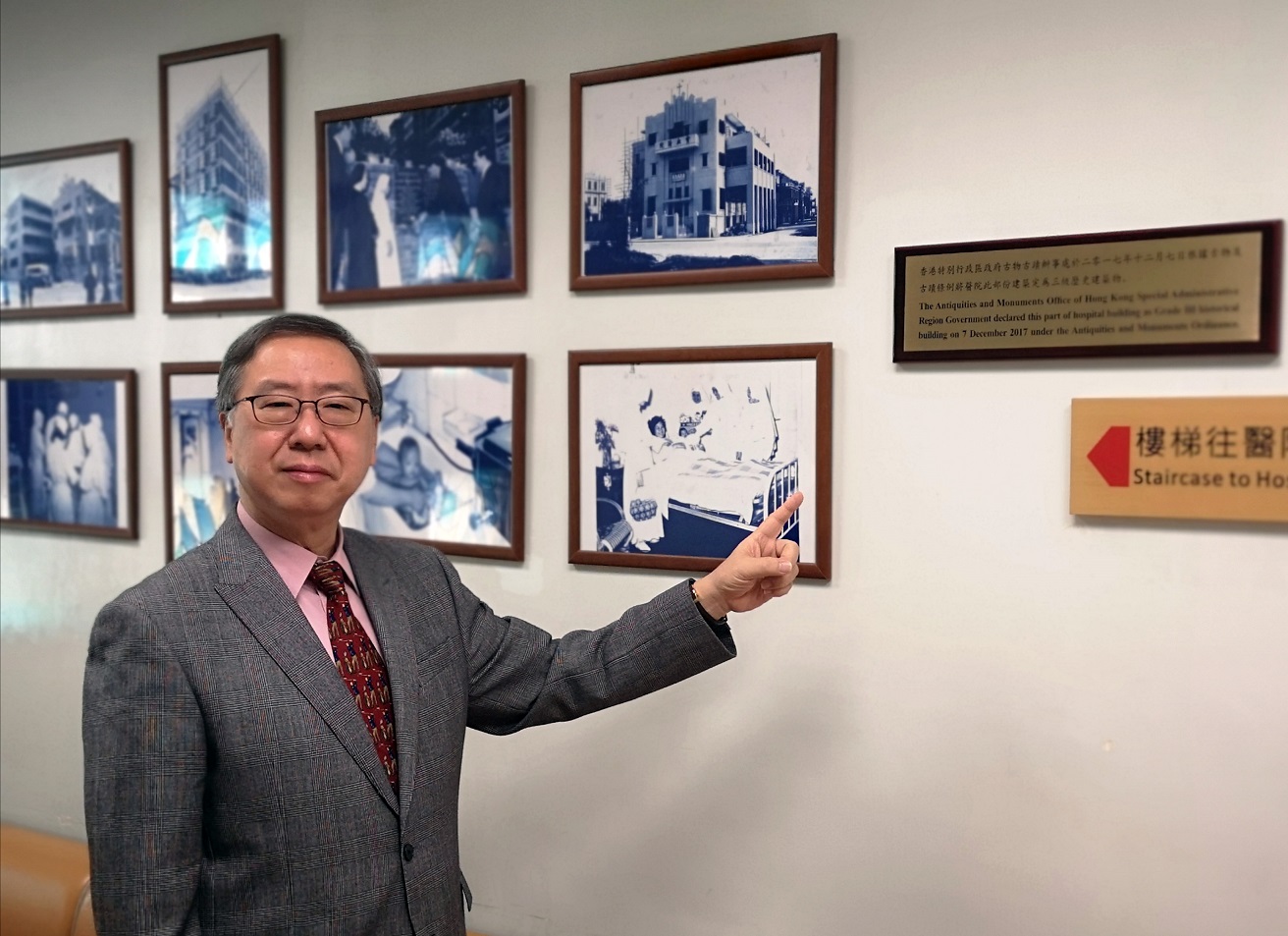 Dr Jonathan Wai Heung-on, Medical Superintendent of Precious Blood Hospital (Caritas), thanks LKSF's funding of the programme and the enthusiastic participation of the Hospital's healthcare team.  He believes the programme is in line with the hospital's motto of "Love in the Service of Hope".

Photo provided by Precious Blood Hospital (Caritas)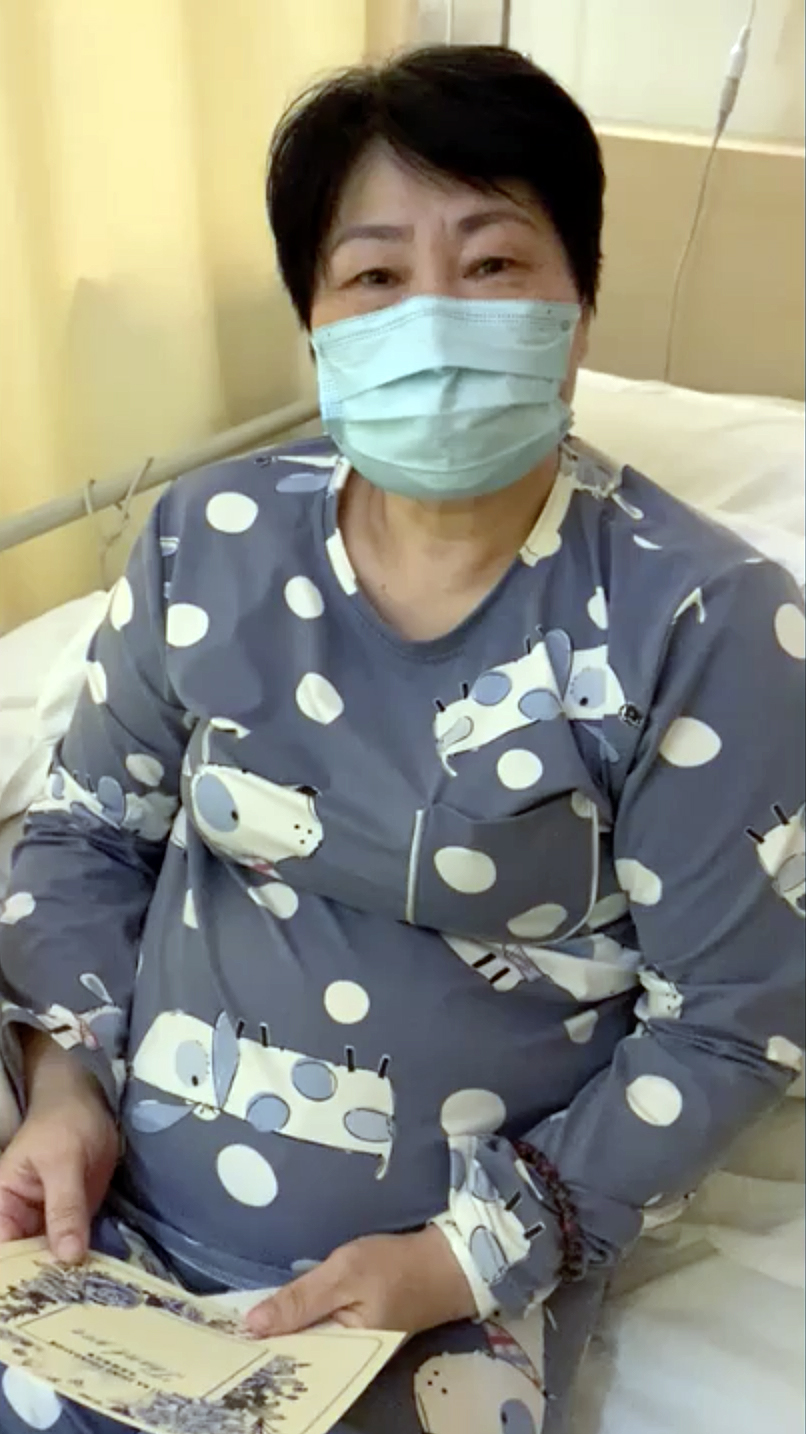 Ms Chang Shuk Yin's knee pain has seriously affected her work and life.  After the surgery, she no longer has to worry about her knee problem.

Photo provided by Precious Blood Hospital (Caritas)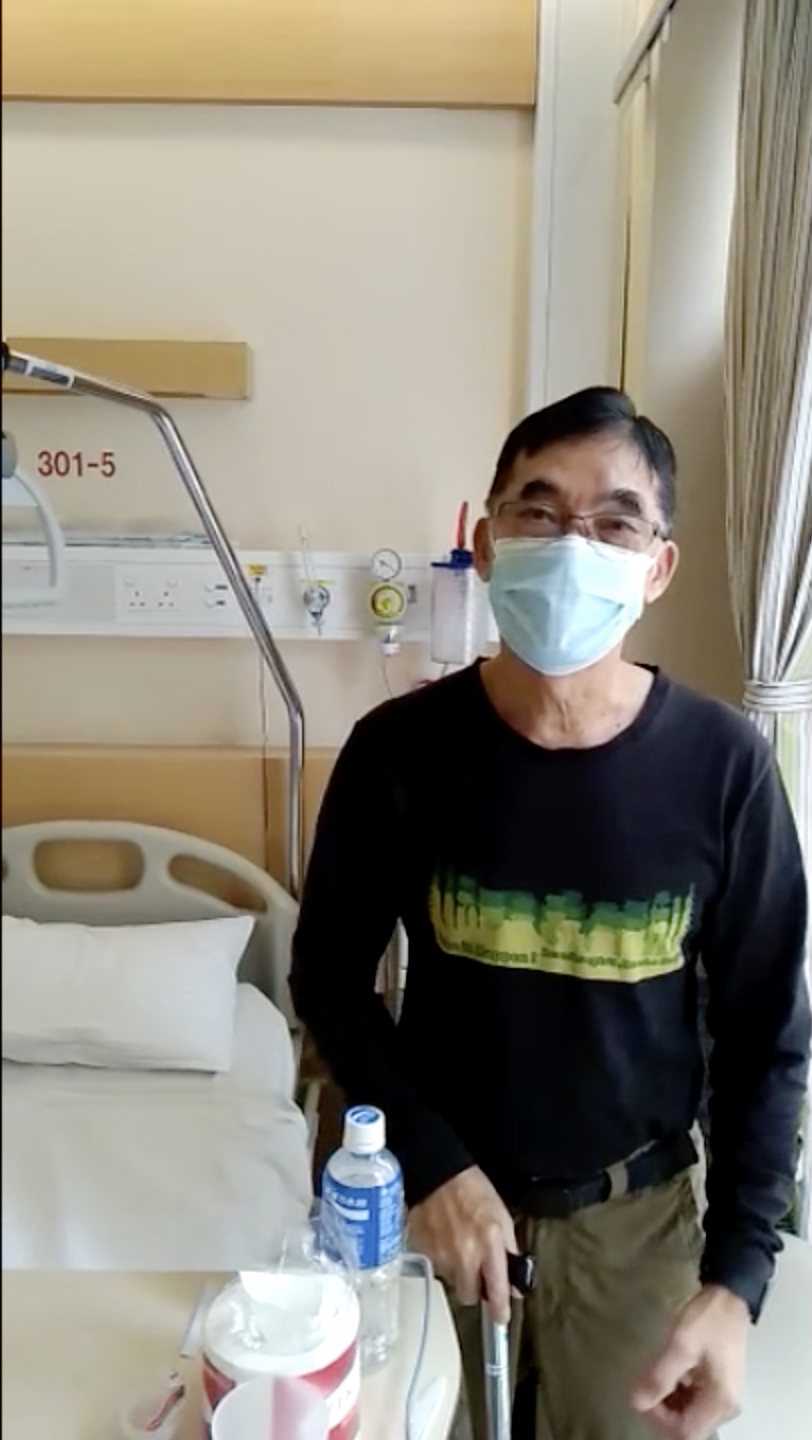 Mr Kwok Ping Kay says the surgery has helped him regain his quality of life.
Photo provided by Precious Blood Hospital (Caritas)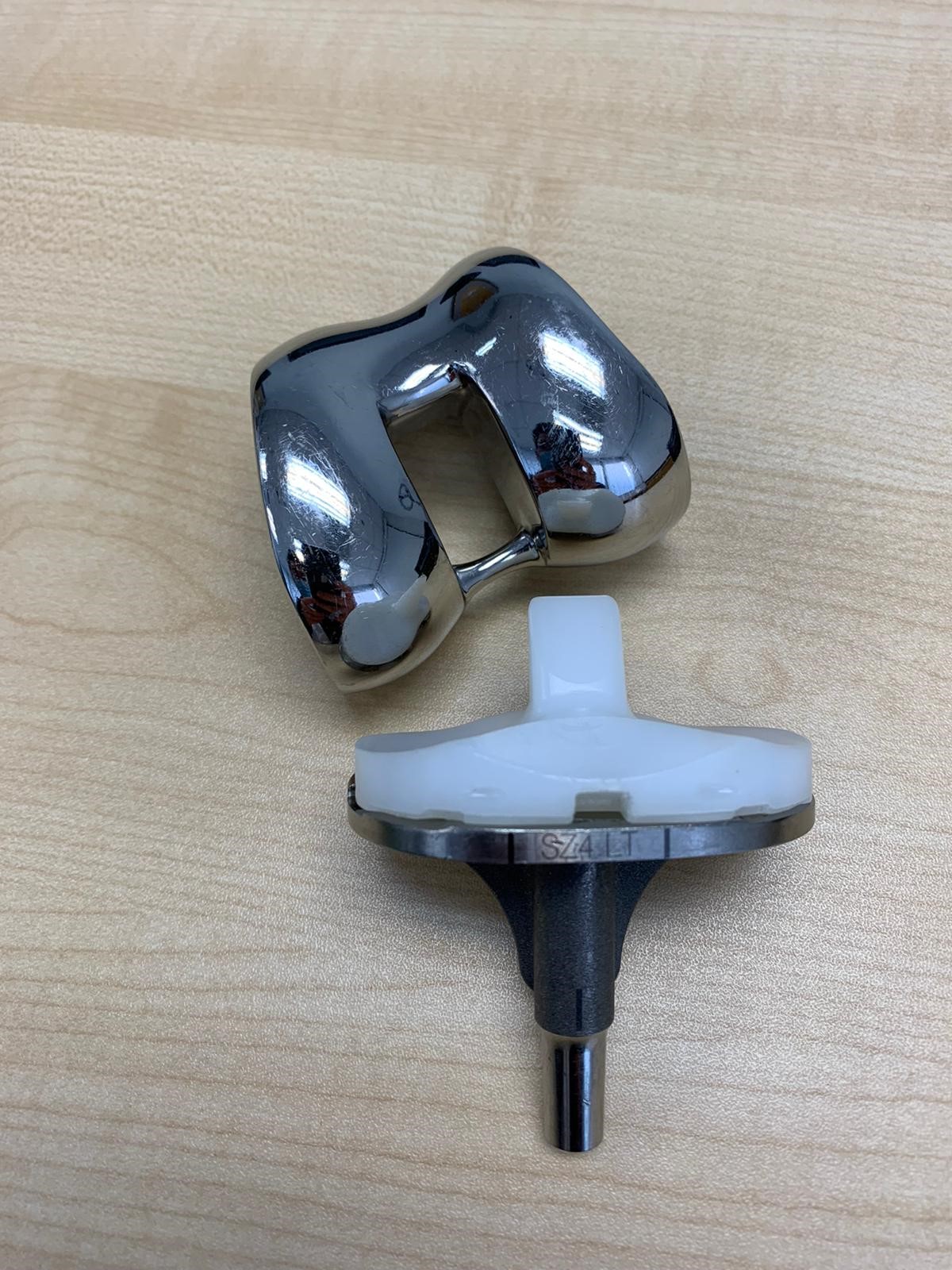 Orthopedists at Precious Blood Hospital (Caritas) replace a patient's knees with the above artificial knee, made of cobalt chrome alloy, which is hard and durable and can be used for up to 20 years.

Photo provided by Precious Blood Hospital (Caritas)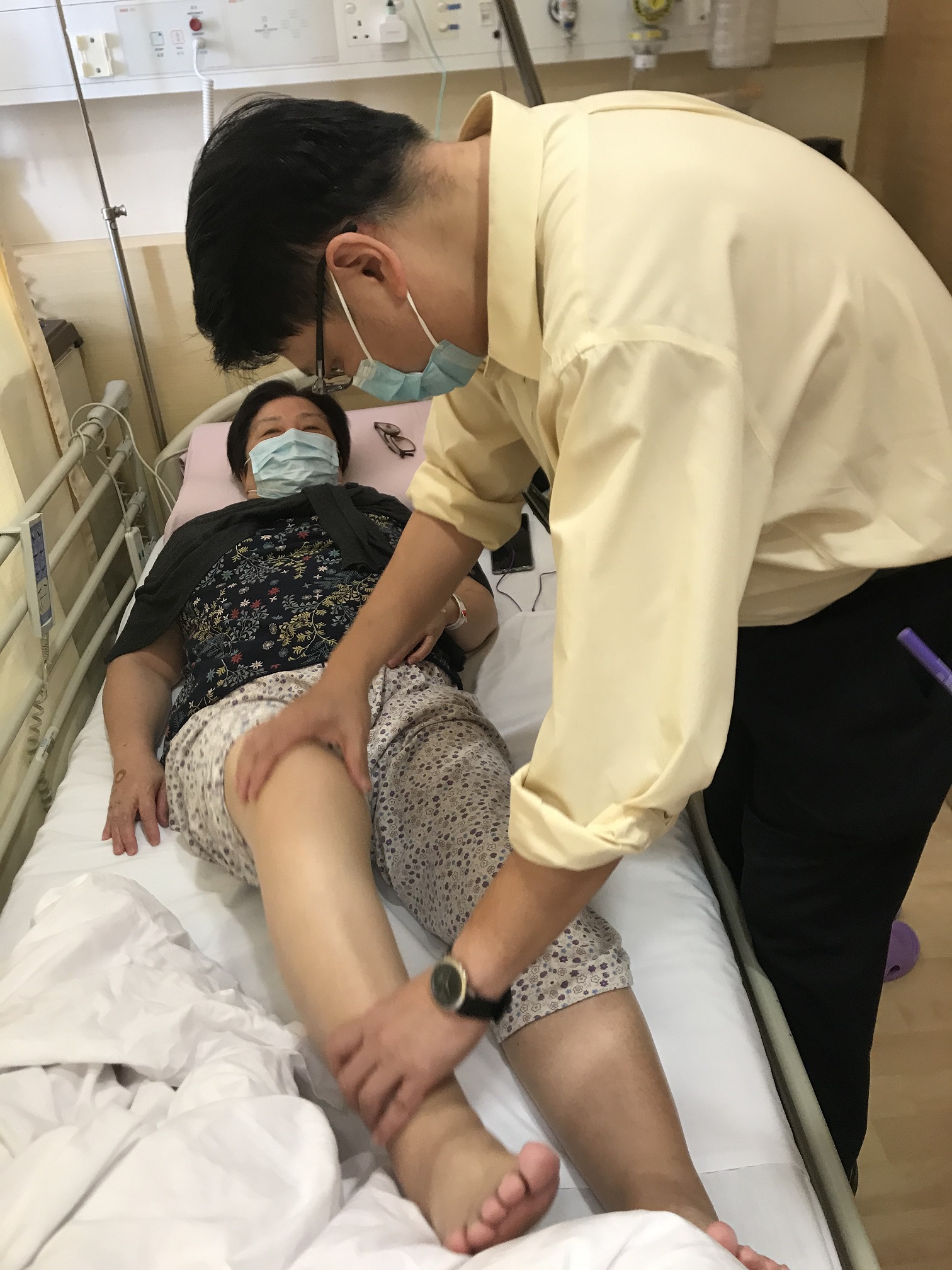 Dr Cheung Kin-wing performs pre-surgery examination on a patient who has applied for total knee replacement.

Photo provided by Precious Blood Hospital (Caritas)