It is our pleasure to announce the results of "The March of Social Engineers" campaign! An offshoot of the "Love Ideas Love HK" project, the campaign concluded with tallied votes by 2,970 registered social workers. Of 359 proposals, the top 90 projects will receive up to HKD100,000 in funding; additionally, amongst these 90 projects, the top 20 most "Liked" by the public will also receive double funding, totalling HKD200,000.
Results concluded with 36,322 votes from registered social workers, and 64,231 "Likes" from the public.
Social worker Siu Chi Kong's proposal, "Caring Home: Rising Above Internet Dependence", victoriously summed the most votes from his peers, as well as most "Likes" from the public. With the Foundation's funding, the project aims to establish an after-school boarding system to help nurture teenagers out of Internet dependency, and into a more active and healthier lifestyle.
Social workers are our city's engineers; they strengthen the city's building blocks by helping those at the grassroots level. They understand our city's needs through experience, and through "The March of Social Engineers" campaign, are able to implement creatively designed projects, delivering targeted solutions to niche populations. As the campaign concluded, results reveal that some of the most popular proposals do indeed reflect many social problems that while could be eased through simple solutions, are often neglected. Some of these proposals presented creative solutions, including teaching troubled teenagers drama, providing dance lessons to the hearing impaired, and encouraging the use of sign language in communities.
The Power of a "Like"
The "March of Social Engineers" online platform was established to draw social workers and the public closer together in a common cause to support our volunteers and our community.
The Foundation would like to thank every social worker who put thought into these thoughtfully created proposals; we would also like to give thanks to each social worker who voted, and to everyone who gave the gift of their "Like".
"The March of Social Engineers" Results Summary
| | |
| --- | --- |
| Participating registered social workers | 2,970 |
| Votes by registered social workers | 36,322 (individuals may vote for more than one project ) |
| "Likes" by the public | 64,231 |
| Projects eligible for voting | 359 |
| Winning projects | 90 |
| Projects receiving double funding – most "Liked" by the public | 20 |
| Total funding awarded | HKD 10,926,710 |
| Number of benefited persons | 210,000 |
Winning Projects Beneficiary Summary
| | |
| --- | --- |
| Children and teenagers | 38 |
| Community and grassroots communities | 21 |
| Wellness and rehabilitation | 12 |
| The elderly | 11 |
| Families | 8 |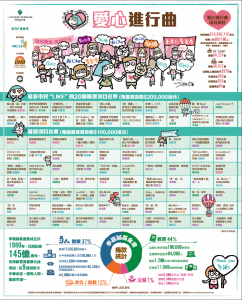 About the Li Ka Shing Foundation
Established in 1980 by Mr. Li Ka-shing, the Li Ka Shing Foundation (LKSF) has three strategic focuses: nurture a new culture of giving; support education reform initiatives; and advance medical research and services. Mr Li considers the Foundation to be his "third son" and has pledged one-third of his assets to it.  With initiatives spread over 19 countries and regions, LKSF supports projects that promote social progress through expanding access to quality education and medical services and research, encouraging cultural diversity and community involvement. Since its inception, LKSF has granted over HK$14.5 billion, approximately 90% of which benefit projects in the Greater China region.
For more information, please visit: http://www.lksf.org.
For inquiries, please contact:
Li Ka Shing Foundation
Mr Jeremy Lau
Tel: +852-2128 1207
Fax: +852-2128 1766
Email: jeremy.lau@lksf.org