(Israel, 12 January, 2105)–On 8 January, 50 Hong Kong students selected to join the Techcracker Lab programme ventured out of their comfort zones, and headed to Israel for a journey across the "Startup Nation". Upon arrival, the group was met with unpredictable weather and snow, yet they managed to complete a 6-hour crash course on anti-terrorism training, and over the next four days, spent a night in the desert, navigated Old Jaffa by solving puzzles, met with at least four Founders in a day, and on top of that, presented mock pitches to a panel of judges before their departure.
Guided by an unyielding spirit of fearlessness and audacity, it is said that Israel has innovation in its DNA. Israel in Hebrew translates into "May God Prevail"; despite of being scarce in natural resources, the nation continues to prosper. The students returned to Hong Kong after the trip with encouragement, newfound understanding of entrepreneurship, this vigour and dedication Israelis call "chutzpah", and a dose of Israel's "innovation DNA".
The Value of Ingenuity in Survival
In Israel, the military also acts as a technology incubator. Many Founders have served in intelligence units, and today are leading innovation across the world. Straight off the 12-hour flight, students proceeded to a 6-hour crash course on Israel defence training at Caliber3. The group underwent a series of drills based on programmes developed by top tier commanders, including krav maga, a shooting adventure and mock combat. In spite of heavy snow, every delegate persevered and was awarded course certificates for completing the course.
Half of Israel is covered by desert terrain. Here, ingenuity is survival, and innovation has helped the nation feed a population of 8 million. At the Bedouin camp Kfar Hanokdim—Kfar, meaning "community"—students learned survival skills and nomad living to dial up their experience in self-reliance. Utilizing mirrors and reflective materials to concentrate sunlight for heat, students successfully created a 240C "oven" for roasting meats.
The group also visited the Unesco World Heritage site Masada, a rugged fortress imprinted with thousands of years of wisdom and signs of the human struggle between oppression and liberty. In the heart of the Judean, rainwater is a natural resource. This precious resource was collected through a brilliant system of waterways and catchment areas that led to 12 cisterns with a total storage capacity of 40,000 cubic metres. Out of the classroom, on this magnificent cliff, the students learned a valuable lesson from those who, driven by the will to survive, overcame challenges and thrived.
Fear: An Obstacle to Success
Following a dip in the Dead Sea, the group headed towards the Technion-Israel Institute of Technology in Haifa, where they were greeted by President Professor Peretz Lavie.
In his welcoming speech, he mentioned that in September of 2013, Mr. Li paid a historical visit to the school. The Hebrew proverb "Tikoon Olam"—which means 'fixing the world'—is how Mr Li described their joint mission. "I totally agree with him," President Lavie said with passion, "the task of universities must go beyond the study and acquisition of professional skills, they must also give students the tools to change the world. Thousands of Israeli start-up companies were established with an aim to introduce products that will improve the world, and most of these start-ups were founded by Technion graduates. Even cutting-edge medications such as Azilect® for treating Parkinson's disease, developed at the Technion and sold today all over the globe, has improved quality of life. The objective is to make the world a better place for all people."
The group then returned to Tel Aviv, met with Founders, visited their headquarters in the city and also met with the current Chief Scientist Avi Hasson. The success story of Israel's startup economy has aroused global attention; 15% of the work force is in the tech related industry, accumulating to 15% of the nation's GDP and 50% of total industrial exports. In addition, two months ago, Tel Aviv also won the award for "The World's Smartest City". Hasson elaborated that the Israeli government believed innovation as a key driver for economic prosperity, and in the past 40 years, has played an active role in implementing public-private partnership models, including providing provisions for corporate risk-sharing and platforms to jointly build a better society. The Israeli government is bold in what many other nations are more passive with; quoting Leonardo da Vinci, he added, "It had long since come to my attention that people of accomplishment rarely sat back and let things happen to them. They went out and happened to things."
The secret behind the success of Waze, the social navigation app purchased by Google, is the team's desire to solve problems for its users, and the understanding that failure is inevitable. Founder Uri Levine explained, "an entrepreneur's passion for change is greater than their fear for failure and loss. If you are afraid to fail, you will be led by your fears and not by your opportunities." He told the students that he often get asked the question, "What happens when you fail?". He advised the students to "change that question: what will happen if you didn't try?" With the success of Waze, Uri continued with founding another company, FeeX, which helps users fight against excessive financial fees. He emphasized that to begin a startup, one must first focus on searching for the root of the problem; only then will you find a solution that is of significant value to your users.
The Secret to Success is to Try
The need to be self-reliant, entrepreneurial and outspoken permeates through the culture and history of Israel. In an area inflicted with instability, Israelis grow up with a sense of urgency and a drive to seek solutions. Though Hong Kong students are blessed with a comparatively much simpler lifestyle, in the 4-day, back-to-back itinerary, every student immersed himself in the activities. Sunny Hon, a second year student in Business Administration at the Chinese University of Hong Kong, joked that the most memorable experience was on the second day where delegates were separated into teams in a race to navigate Old Jaffa with hidden clues. Each stranger their team engaged was more than happy to help, and not only that, "our taxi driver was frustrated he could not be of help, and kept asking for more clues, hoping to bring us to our next stop!"
Students from the Technion-Israel Institute of Technology also participated in the programme as student ambassadors. Sonny recalled his Israeli peer describing Facebook as a social media platform now flooded with meaningless content, "he suggested that Facebook add a function by allowing people to unlike posts anonymously, and once the post hits 10 unlikes, the post auto deletes to eradicate superficial content. I thought that this was such a witty and brilliant suggestion!" Direct interactions with local peers, Sonny added, is the most practical way to understanding innovation; novelty appears in all forms and at any moment.
Chu Yat Ho, King's College recipient of the 2013-2014 Youth Scientist Award, said, "at first glance, the Library seemed like a venue for youngsters to gather and work. Only after the tour did I realize that the Library has actually been converted into an incubator. It provides support and brings in expertise for aspiring entrepreneurs to develop their concepts. Entrepreneurial spirit in Israel is strong because it is embodied by the community." Chu added, the difference between the failure and success of realizing and commercializing a concept, "lies in your drive for change and perseverance. If I have a chance in the future, I would want to be an entrepreneur too."
Co-organized with the Technion-Israel Institute of Technology and Horizons Ventures, the Techcracker Lab program is supported by the Consulate General of Israel in Hong Kong, the Chinese University of Hong Kong (CUHK), the Hong Kong Polytechnic University (HK PolyU), the Hong Kong University of Science and Technology (HKUST), the University of Hong Kong (HKU) and the Hong Kong New Generation Cultural Association. The group of delegates comprised of 40 university students, 10 secondary school students, 8 chaperones and over 20 members of the press. Refreshed with a dose of motivation and a dollop of innovation, the group returned to Hong Kong on 13 January.
—
Caption 1: Straight off a 12-hour flight, students proceeded to a 6-hour crash course on Israel defence training at Caliber3.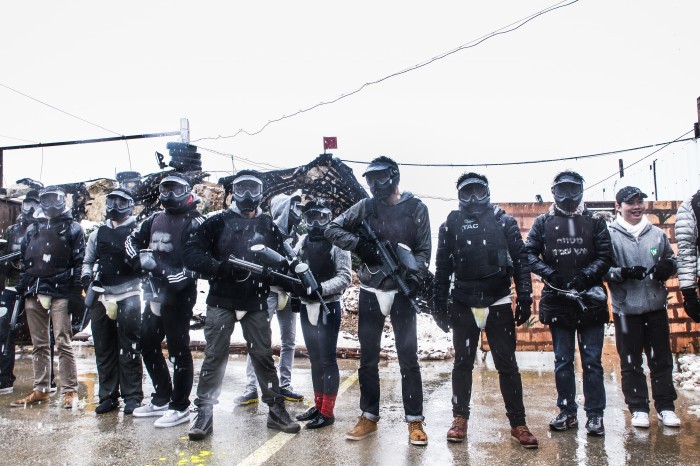 Caption 2: At the Bedouin camp Kfar Hanokdim, students learned survival skills and nomad living to dial up their experience in self-reliance.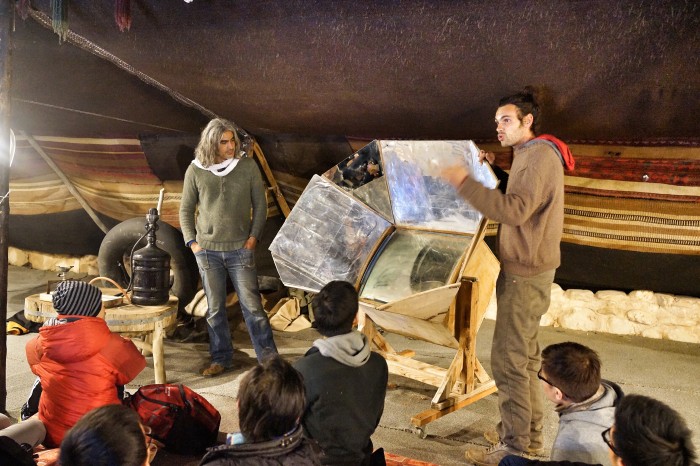 Caption 3: Out of the classroom, on the magnificent cliff of Masada, students learned a valuable lesson from those who, driven by the will to survive, overcame challenges and thrived.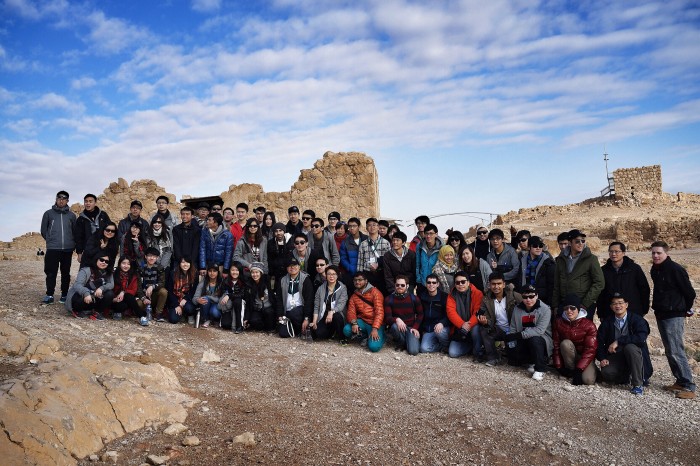 Caption 4: At the Technion-Israel Institute of Technology, students were greeted by President Professor Peretz Lavie, who emphasised the importance of educational institutions as a driver for change.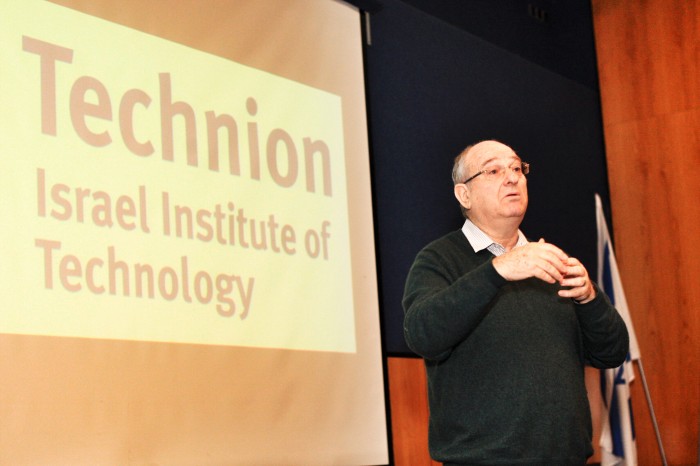 Caption 5: Ohad Mastboim, Business Development Manager at Cortica talks about how a concept is realized and brought into the market.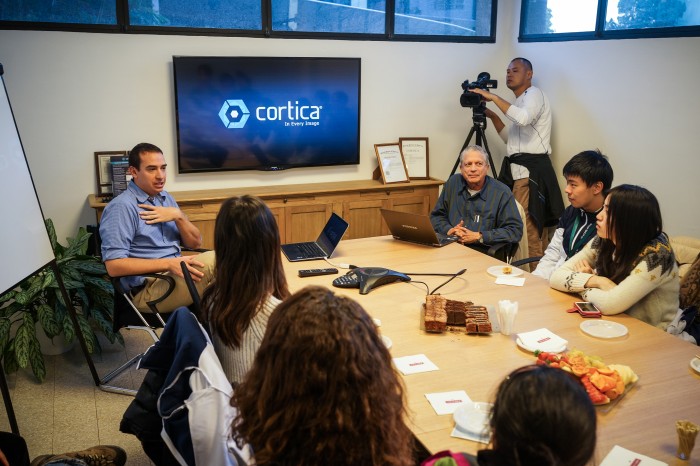 Caption 6: On the last day, teams presented their mock pitches to a panel of judges. Team 4, with their "P2P Transfer Services" concept, won USD 10,000 to donate to any Israeli charity of their choice.