Scaling Socio-economic Impact through Technological Disruption and Innovation
Li Ka Shing Foundation announces 2 new projects :
Breath Biopsy cancer screening in Shanghai
Antibiotics-free animal farming in Zhejiang
(Shanghai, February 19th, 2019) Following the same model launched in Jiangxi last September , the LKSF is commiting USD2M to extend its vision of scaling socio-economic impact through technological disruption and innovation in Zhejiang and Shanghai to support clinical trials and development of non-invasive "Breath Biopsy for Cancer Detection" and cost-effective "Antibiotics-free Animal Husbandry" to improve human health and quality of life.
To Promote A Pipeline for Education, Research and Commercialization
– Provides support for two technology start ups to establish R&D hubs in Zhejiang and Shanghai
– Facilitates an agreement between UK-based innovative medical startup Owlstone and Shanghai Jiaotong University Renji Hospital to initiate a clinical study with a new laboratory outfitted by Owlstone for early detection of lung cancer to raise mortality rates and lower the prohibitive cost burden to the health system, with subsequent expansion plans throughout China from its current hub.
– Facilitates an agreement between US-based biotechnology start up Evolve Biosystems and Zhejiang University's College of Animal Science to conduct research on antibiotic-free animal farming, using Evolve's proprietary probiotics to ensure healthy piglet growth. This "Probiotics to Replace Antibiotics" research aims to combat the huge threat to health and our environment caused by antibiotics abuse. Evolve is also planning for subsequent expansion throughout China from its current hub.
The mission behind the projects :
Mr Li believes that creativity is the cornerstone of economic progress, and in an era of high-growth competition, creativity is not just a good idea but a way of life. Communities need to participate in aggregating their collective wisdom for scaling social impact by working together to build a new model that leverages technological disruption and innovation to explore viable solutions to persistent problems.
UK Cambridge based Owlstone Medical's Breath Biopsy Cancer Diagnostics
Cancer is an exacerbating problem in China, 1 in every 4 deaths are caused by cancer, and lung cancer has the highest mortality rate in China. According to National Statistics, ~700K new cases are diagnosed with ~600K deaths per year, and early detection could increase a cancer patient's rate of survival. Breath Biopsy offers a highly accurate and non-invasive way to detect cancer early and is easily accessible, unlike current screening options. It analyzes volatile organic compounds (VOCs) – the end product of the body's metabolism – from our breath to look for biomarkers that characterise specific diseases for diagnosis.
Owlstone Medical has developed a breathalyzer for early detection of cancer cancer, inflammatory and infectious diseases. The only commercialized Breath Biopsy Laboratory owned and operated by Owlstone is the world's most advanced, achieving measurements of ppt parts to trillion.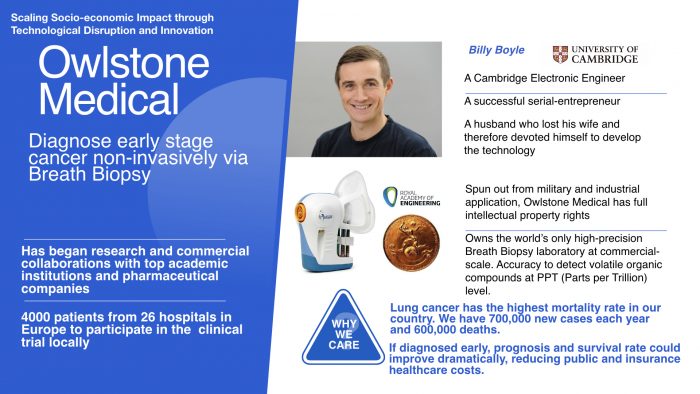 California Davis based Evolve probiotics help in the fight against antibiotics abuse in animal farming and boost infant immune system
Use of antibiotics is a widespread practice in China's pork industry in order to increase piglet's weight gain, prevent scours and gastrointestinal infections. Many farms combine feed with antibiotics, transforming them into hotbeds for antibiotic-resistant bacteria, promoting epidemics in animals and threatens human health. Over 52% of antibiotics consumption in China are used for animals and in particular, piglets. Evolve Biosystems developed a natural probiotic product that in a recent US study of 10,000 piglets, has repeatedly showed the protection GlycoGuard provides to the fragile newborn microbiome, replacing the use of antibiotics during weaning leading to healthy growth. The goal of the study with Zhejiang University is to demonstrate efficacy of Evolve's probiotics adapted to pig farms of various sizes to achieve the same healthy litter weaning weight gain ( up to 14%) without antibiotics, and through widespread adoption in China minimize the consequential problem of antibiotic-resistance globally.
In the future, Evolve Biosystems' plans to develop their clinically proven probiotic product that can restore B. infantis, a key beneficial bacteria, in baby's gut and reduce bad bacteria that is linked to a higher risk of health issues, now and later in life, including colic, eczema, allergies, diabetes, and obesity. Evolve is also keen to bring its breakthrough proprietary infant probiotic into China to improve the health of our newborn babies.
The Foundation and Zhejiang and Shanghai
Twenty years ago the Li Ka Shing Foundation initiated a project to provide national hospice care to cancer patients and its footprint covered Shanghai and Zhejiang provinces, to date attending to over 200,000 cases nationally. Other local philanthropy projects included prosthetics matching and donations, vision recovery for cataract patients, national poverty group social work and capacity development projects. This round of Foundation initiatives in these two provinces will bring forth new ideas and collaborative models to Zhejiang University and Shanghai to foster technology breakthroughs in support of sustainable development.
Zhejiang University was part of Project 211, Project 985, Double First Class University Plan and Program of Introducing Talents of Discipline to Universities, 111 Plan. The university was among the first in the country to be founded by Chinese nationals and had a focus in medical education. Over the years, the Foundation supported Zhejiang University through Shantou University Advisor Dr. Ba De-nian, and this year a special donation of USD $1Million was given to establish the "Zhejiang University Ba De-nian Medical Education Development Fund". Pursuant to a visit by foundation on February 17th to Zhejiang University, an additional donation of RMB2M will be directed towards projects that benefit the overall development of its female students.
Shanghai Jiaotong University's Renji Hospital was founded in 1844 and combines medical care, education and research into a single entity with a focus on "comprehensive and individualized tumor precision treatment", and provides resources to overcome the pain-points and bottlenecks of tumor treatment.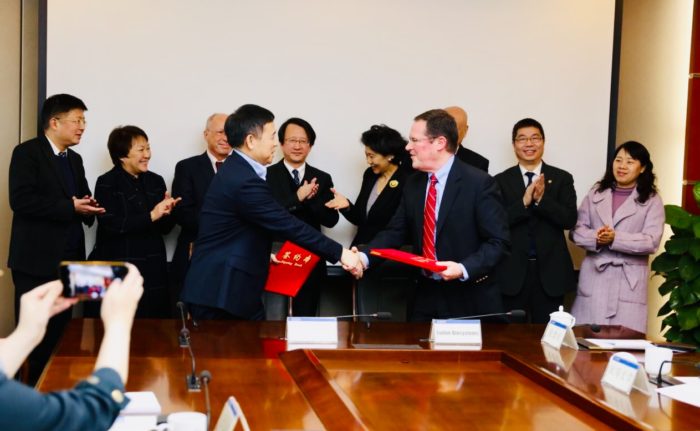 California Davis based Evolve BioSystems signed memorandum of understanding with Zhejiang University to initiate a "Probiotics to Replace Antibiotics" research to promote antibiotic-free pig farming. Ms. Solina Chau, Executive Director of Li Ka Shing Foundation (second row, fourth from the right) and Mr. Chaohui Wu, President of Zhejiang University (second row, fourth from the left) joined the signing ceremony.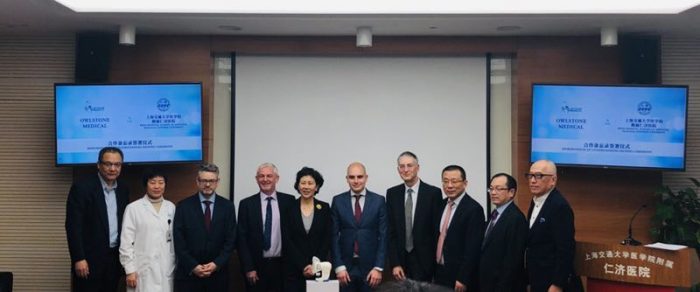 UK Cambridge based Owlstone Medical signed memorandum of understanding with Renji Hospital, affiliated with the Shanghai Jiaotong University School of Medicine to start an early stage lung cancer detection clinical trial and to set up a breath biopsy laboratory to support the trail. Ms. Solina Chau, Executive Director of Li Ka Shing Foundation (fifth from the right), Mr. Weiping Li, President of Renji Hospital (third from the right), and James McGuire, Consul to British Consulate General Shanghai (third from the left) joined the signing ceremony.
About the Li Ka Shing Foundation
Established in 1980, the Li Ka Shing Foundation (LKSF) has invested over HK$21.8 billion to work on education, medical services and research initiatives globally, with about 80% of the projects within the Greater China region. In 2006, Mr. Li described his philanthropic effort as akin to having another son in the family. He called for a paradigm shift in our Asian culture of giving, through apportioning more of our wealth and means towards social capital so that we could bring forth great hope and promises for the future.